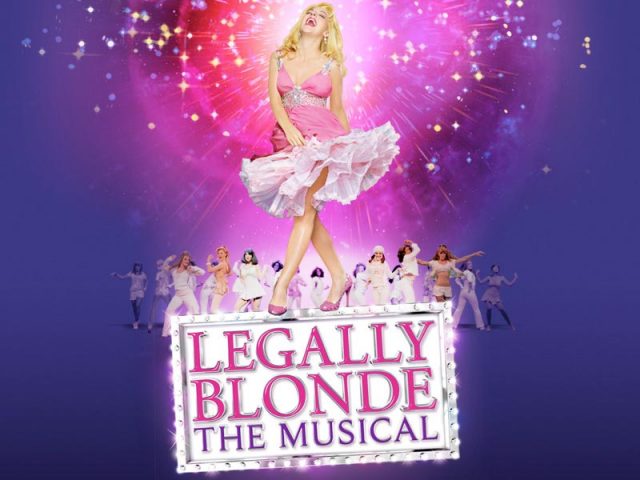 After repeated nagging, last night my husband gave in to my incessant demands and took me out.
To the theatre!
Across the road.
(Well we do live right next to the New Wimbledon Theatre).
We went to a showing of Legally Blonde The Musical, which OH MY GOD YOU GUYS! was a lot of fun.
If you haven't seen the film version, then go and watch it so I don't have to explain the plot.
OK I'll briefly summarise.
The story revolves around Elle Woods, a sorority girl who manages to enroll at Harvard Law school in an attempt to 'look serious' and win back her ex-boyfriend. Much singing and dancing ensues and in the end Elle proves her worth and succeeds in defending her client at a murder trial.
Although a few of the songs dragged on a bit (as is often inevitable), most of the musical numbers proved to be annoyingly catchy and were accompanied by high octane, knicker-flashing dance routines.
There were some hilarious moments provided by the hunky UPS deliveryman who clearly had based his character on the loveable Kronk from Disney's The Emperor's New Groove (if you haven't seen this highly amusing animated classic you are missing out!) but even these were topped by the energetic courtroom scene where it becomes apparent that the pool boy is in fact GAY and not European.
I have to admit that I was a little bit excited at the prospect of seeing Gareth Gates play the role of the arrogant ex-boyfriend, but while his voice was still as sweet as it had been during his innocent Pop Idol days, I felt that he lacked charisma and his sole number was drowned out by the powerful vocals of the lead actress.
Ultimately, the true stars of the show were the two little dogs who yapped their way into the audiences' hearts and received a standing ovation.
Girly, sparkly, witty and a little bit camp, all in all Legally Blonde proved to be very enjoyable and made me wish I had continued pursuing a law career.
NOT.
Legally Blonde: The Musical is currently running at The New Wimbledon Theatre until this Saturday 6th October