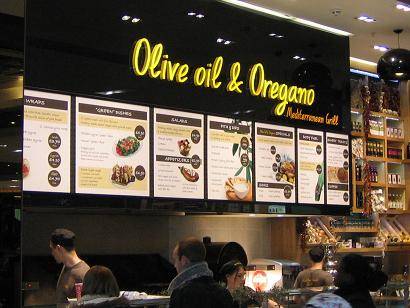 I am a huge fan of shopping. And as many of you know, I am also a huge fan of Greek gyro. So when I happened upon the Olive Oil & Oregano food pitstop in Westfield Stratford it was a match made in heaven.
With a menu that's relatively cheap and cheerful and filled with traditional Mediterranean food, you absolutely cannot go wrong. My personal favourite is the pork gyros wrapped in pita and stuffed with saláta and patátes.
Hang on, what do you mean YOU EAT NO MEAT?! It's ok, they even have a vegan wrap.
The place gets exceptionally busy at lunchtime but the food is definitely worth waiting for and will fill you with enough energy to return to your shopping renewed and revitalised (but also potentially so full that you can't even move!).
You would be hard pressed to find any another Greek restaurant in London that serves gyro as close to the standard you get in Greece, than here.
I'll definitely be back. Will you?