I have self-published three stand-alone books as well as a six-part children's chapter series and have written for various publications. You can read article samples or find out more about my work as a Freelance Writer here.
MY BOOKS
My writing covers fiction and non-fiction as well as poetry and children's literature. All of my books are available on Kindle and in paperback format from Amazon worldwide. You can see my Amazon bookstore for the UK and US here. Alternatively, if you would like to contact me I can send you a signed copy of any book for the usual retail price.
Under my planner brand Pandorus Publishing, I have created a number of Children's Gratitude Journals and Activity Books. You can find out more here.
Please see below for more information on all of my books.
WRITER'S WORKBOOK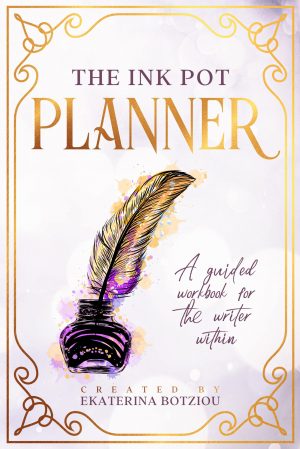 A guided workbook, planner and journal all in one designed for those looking to unleash their inner creativity.
The workbook is designed to give as much flexibility as possible whilst also offering guidance where it may be needed for any writer.
Whether you want to write a full-length novel, a memoir, a book of short poems, or just try your hand at journaling, this guided workbook will lead the way.
The paperback version is a full colour 191 page 6×9 inch book that you can write in everyday and carry in your work bag.
The PDF file is 185 pages, A4 size that can be used digitally or printed off in colour or black and white.
Available in paperback and digital downloadable format.
---
STAND ALONE BOOKS
 GREEK EXPECTATIONS: THE LAST MOUSSAKA STANDING
"A life full of Greek expectations will not be an easy one, but with a little help from the Gods, you can be sure that yours will be the last moussaka standing."
Part memoir, part rant, part survival guide, Ekaterina's cautionary tale of Greek love and life gives a hilariously witty insight into the trials and tribulations of being a modern woman tormented by guilt-inducing mother-in-laws, pandofla-wielding Grandfathers, and oppressively hairy husbands.
Available to buy in Paperback from Amazon UK, Amazon.Com and on Amazon Kindle.
THESEUS & THE MOTHER-IN-LAW AND OTHER MYTHS AND LEGENDS
Who was the greatest hero of all? Was it the valiant Perseus fighting for the freedom of his dear mother? Could it be Theseus the suave slayer of the Minotaur? Perhaps it was fearsome Achilles the golden boy of Troy? Or was it the mighty demi-god Heracles, the son of Zeus himself?
You decide.
Think you know the tales of the Greek heroes? Think again.
Available to buy in Paperback from Amazon UK, Amazon.com and on Amazon Kindle.
*
SERAPHINA: A SHORT STORY IN VERSE
Born into a world ravaged by the fires of war and hate, little Seraphina is forced into hiding after her mother and father are brutally murdered by the Order.
Led by the despotic Fanatic and his army of metallic pawns, the Order seeks to crush all who defy their tyrannical regime and slaughter those who stand in their way.
As Seraphina grows into a fierce and respected young woman, she gains the adoration of those who fought by her parents' side and becomes a beacon of hope for the land's tormented souls.
Available to buy in Paperback from Amazon UK, Amazon.Com and on Amazon Kindle.
---
CHILDREN'S CHAPTER BOOK SERIES
When the mighty god Zeus gives his daughter Athena a little mechanical owl for her birthday, she is overjoyed and names him Omicron. But poor Omicron is not allowed to stay with Athena on Mount Olympus until he has proved himself worthy of living amongst the gods. So Zeus sends him down to Ancient Greece to battle mythological monsters and outwit cunning creatures. Join Omicron as he fights ghastly giants, sharp-toothed sirens, gruesome gorgons and much more in his quest to overcome the dark lord Hades and return to Mount Olympus.
Available on Kindle and Paperback from Amazon Worldwide. Aimed at readers age 7+.
Book 1: The Adventures of Omicron: The Temple of Olympus
Book 2: The Adventures of Omicron: Voyage on the Argo
Book 3: The Adventures of Omicron: The Gorgon's Head
Book 4: The Adventures of Omicron: Riddle of the Sphinx
Book 5: The Adventures of Omicron: Eye of the Cyclops
Book 6: The Adventures of Omicron: The Battle of Olympus
*
If you enjoy the books, please consider telling your friends or posting a short review on Amazon (both UK and US). Word of mouth is an author's best friend and much appreciated. Thank you!
*
---
FREELANCE WRITING ENQUIRIES / COPYWRITING
This slideshow requires JavaScript.
I have written for a wide variety of magazines including STATUS Magazine , LIFE & LUXURY, THE OROKLINI NEWS, THE HUFFINGTON POST and THE LOVE WIMBLEDON GUIDE. I am used to meeting strict deadlines and I am happy to write on virtually any subject and in any style.
You can see samples of my work here.