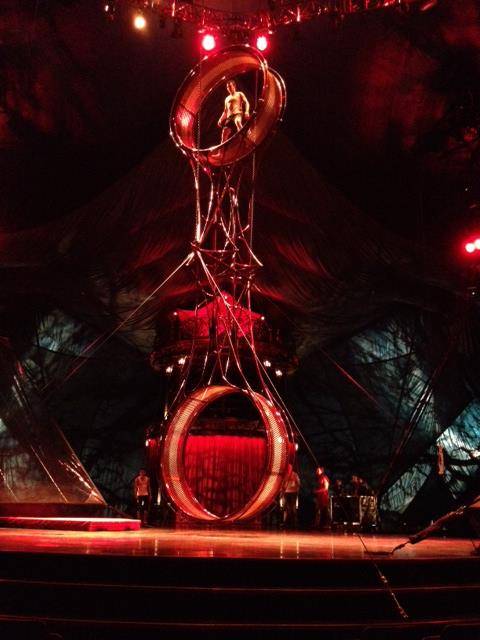 Last night I managed to nab tickets for the final week of Cirque du Soleil's performance of Kooza at The Royal Albert Hall.
Well I was SO inspired that I am now planning to give up my boring life and join the circus.
[youtube=http://www.youtube.com/watch?v=0O0-HJhjw8Q]
Cirque du Soleil first premiered in 1984 and for over two decades they have redefined the circus, causing a major sensation with their dangerously entertaining routines. The show features a stunning mix of crazy contortionists, loopy clowns and daring acrobatic feats, all accompanied by an eclectic soundtrack performed by a live band.
Although the support cast totals over fifty, the story features seven primary characters, along with the central character The Innocent, who finds himself in the world that is Kooza. Magic, mayhem and body manipulation ensue as The Innocent explores this enchanting domain.
Some of the truly remarkable acts include a swinging trapeze artist, a daring triple high-wire routine, a death-defying multi-chair balancing performance, and a mesmerising display of contortionist brilliance, which left me in dire need of a back massage from just watching.
The main thrill of the evening was the jaw-dropping Wheel of Death, aptly named following a spate of fatal accidents when it was first introduced as a circus act in the mid 1900s. The audience watched in stunned rapture as two (clearly superhuman) men dressed in devilish attire, hurled themselves around and over the spinning wheels, with the agility of a couple of chimpanzees.
Combined with the sparkling costumes and colourful set design, the show has all the ingredients that make for a uniquely breathtaking, high-octane experience. After a few recent disappointing reviews for other shows, Kooza brings Cirque du Soleil right back to its simple origins; great choreoraphy, amusing clowns, absorbing music, striking visual effects and daring acts of athletic magnificence.
I'm now off to buy a human hamster wheel to practice my routine.