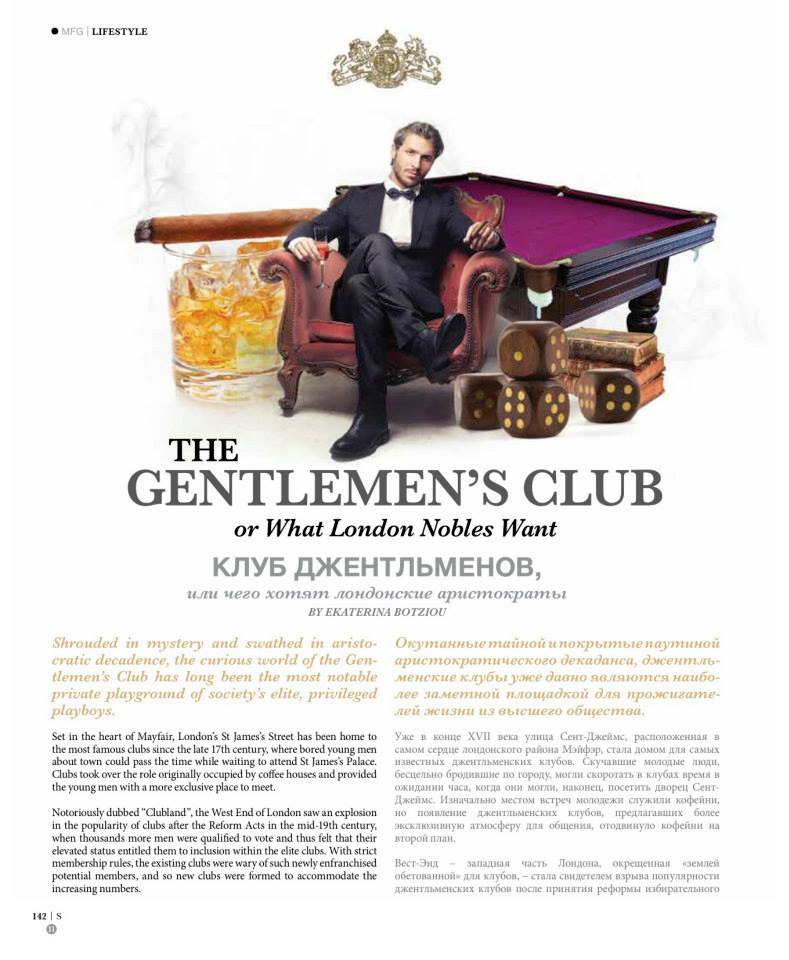 Not being a 'Gentleman', the prestigious, male members only clubs of London were a mystery to me before I was asked to write an article about them for Status Magazine. But with many of the traditional gentlemen's clubs now opening their doors to women, perhaps its time to learn a thing or two about these not-so-secret associations.
WELCOME TO THE CLUB
Shrouded in mystery and swathed in aristocratic decadence, the curious world of the Gentlemen's Club has long been the most notable private playground of society's elite, privileged playboys.
Set in the heart of Mayfair, London's St James's Street has been home to the most famous clubs since the late 17th century, where bored young men about town could pass the time while waiting to attend St James's Palace. Clubs took over the role originally occupied by coffee houses and provided the young men with a more exclusive place to meet.
Notoriously dubbed "Clubland", the West End of London saw an explosion in the popularity of clubs after the Reform Acts of 1832, 1867 and 1885, when thousands more men were qualified to vote and thus felt that their elevated status entitled them to inclusion within the elite clubs. With strict membership rules, the existing clubs were wary of such newly enfranchised potential members, and so new clubs were formed to accommodate the increasing numbers.
Many clubs were characterised by the interests of their members, whether they be politics, literature, art, travel, sport or automobiles. In other cases, the connection was membership of the same educational institution or the same branch of the armed forces.
Cabaret performances and other public entertainment were not a feature of the original British clubs. Instead, they provided a convenient retreat for upper and upper-middle-class men with modest incomes to spend their time in grand surroundings, sometimes serving as a "second home" where men could relax, play parlour games, enjoy a meal and find overnight accommodation.
In London, there are perhaps some twenty-five traditional gentlemen's clubs of particular note, including Whites, Brookes and Boodles, and The Art Club.
Whites
With a reputation for both its exclusivity and the often tawdry behaviour of its members, White's is the oldest and most exclusive gentlemen's club in London. Originally founded in 1693 as Mrs White's Hot Chocolate House, it soon gained notoriety for its more intoxicating practices.
Over the course of its 300 year history, the club has played host to a glittering array of illustrious members including the Duke of Wellington, King George IV, William IV, Edward VII and more currently, Charles, Prince of Wales and his son Prince William, Duke of Cambridge. Prince Charles famously held his Bollinger champagne-fuelled stag night at the club before his wedding to Lady Diana Spencer.
The club has also attracted its fair share of political scandal, with suggestions that the recruitment of the Cambridge Spies, was orchestrated from the club's bar. Certainly the club was known as a hot bed of gambling activity, which was illegal outside of members-only establishments.
While revelling in its raffish elements, White's has always seen itself as a distinctly political club with a preference towards the Conservative profile. Indeed, every Prime Minister from Robert Walpole in the early 18th century to Robert Peel in the mid-19th century was a member, including current British Prime Minister David Cameron who resigned in 2008 over the club's refusal to admit women.
The original "Old Boys Club", the establishment continues to cultivate its reputation as the most difficult to gain entrance to, and to this day, White's remains a men-only establishment.
Boodles, Brooks's and The Arts Club
In 1762, a private society was established in response to the rejection of prospective members of White's. The society split to form two subsequent gentlemen's clubs, Boodles and Brooks's. Brooks's was founded by twenty-seven prominent Whig nobles and its membership included Royalty and notable politicians including George IV and William Pitt the Younger. Boodles was founded by future Prime Minister Lord Shelburne and included Sir Winston Churchill among its members. During the 19th century, clubs expanded to incorporate more creative interests and in 1863, The Arts Club was founded by prolific novelists Charles Dickens and Anthony Trollope. The club continues to be a thriving social hot-spot for those in the creative industry and its current members include Sir Peter Blake and HRH Prince Philip as well as various actors and patrons of the arts.
The Hellfire Club
Alongside the more formal gentlemen's establishments, ran several exclusive institutions known as The Hellfire Clubs, which practiced far more unorthodox activities. The first club was founded in London in 1719 and the most notorious among these was initiated by known trickster Sir Francis Dashwood. Meetings often included mock Satanic rituals, items of a pornographic nature, much drinking, wenching and banqueting.
The Modern Era
Many of the traditional gentlemen's clubs have now opened their doors to women, with private members clubs such as The Groucho Club and Soho House offering an "antidote" to the stuffiness of their forefathers. A new breed of business-oriented private members clubs has also emerged, combining the traditional services of the original members clubs with the business facilities of an office.
Today, the term "Gentlemen's Club" is commonly used to refer euphemistically to strip clubs. Notable London establishments include The Gaslight in St James's, which offers fully nude, strip entertainment and pole dancing. While by no means unheard of in earlier times, this public descent into what was formally considered "improper conduct" has grown into a hugely successful industry, appealing to the masses of young professionals who are unable to fulfil the elite membership requirements of the traditional clubs.
For the modern gentleman, private members' clubs offer the opportunity to let off steam, often in the company of a woman, in an exclusive environment. For the traditionalists, most continue to revel in the company of their fellow pedigreed gentry, lapping up the eccentricity and exclusivity that the conventional gentlemen's club continues to offer.