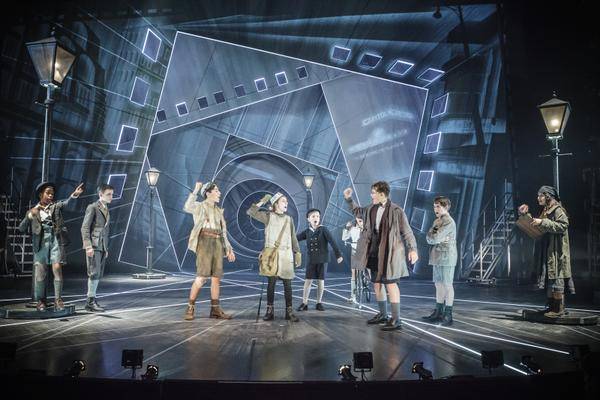 Last week I took a trip to the Southbank to the National Theatre to see a production of Emil and The Detectives.
One of my friends has a daughter starring in the show – a fantastic performance by Demi Papaminas playing Hilde (Left: wearing the satchel)- and I decided to pop along to show my support…(and use the opportunity to tuck into some compulsory theatre-trip sweets).
Set in Berlin, the play tells the story of young Emil Tischbein (played with gusto by Toby Murray) who falls foul to crooked con-man Mr Snow (a superbly villainous Stuart McQuarrie), and ends up enlisting the help of various children who call themselves The Detectives to track down and apprehend the thief who has stolen his mother's money.
Cue some poignant moments and much laughter, as Emil pursues the dastardly Mr Snow through the streets and sewers of Berlin, and at one point even through the stalls!
All the cast, both adults and children alike, were a delight to watch and it was obvious from the natural way they interacted with each other, that close friendships had been formed.
The set was as impressive as the cast, making the city of Berlin the heart of the story through skilful projections of vorticist tunnels and black and white video clips with a heavy influence of German expressionism.
The play essentially upholds the notion that good will always overcome evil, and promotes all the positive human values such as love, friendship and truth. The story also empowers the innocence of youth by pitting the children against the murky adult world.
The production concludes with the cast deliberating on what exactly the moral of the story is, to which I have decided: Never trust an adult!
Emil and the Detectives is showing at the National Theatre until Sunday 16th March. You can buy your tickets here.