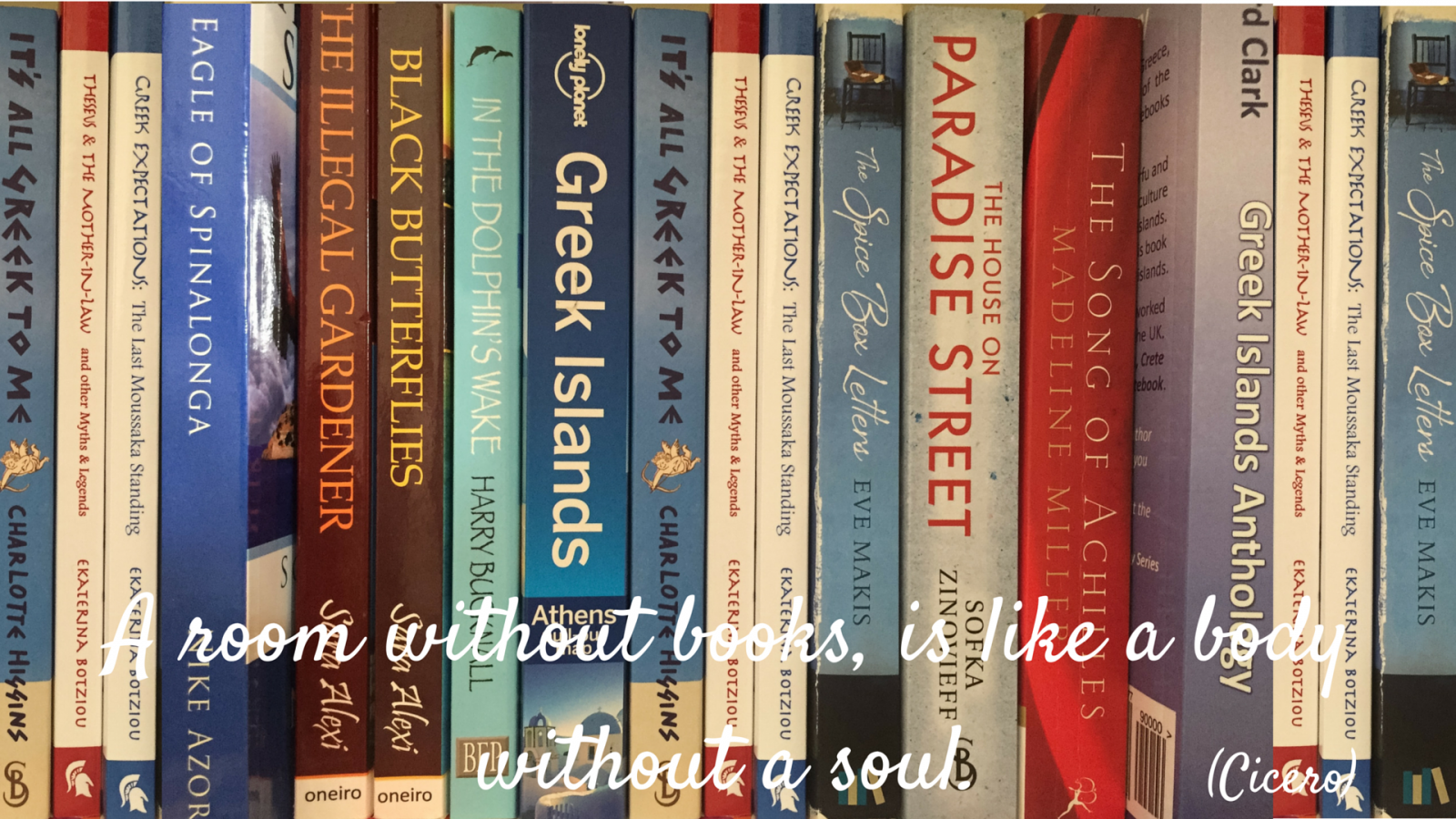 Every year I set myself a reading challenge and every year I fail! I usually set myself a target number on Goodreads but last year I didn't finish half the books on my list, so this year I am planning to change all that.
I tend to read a lot of Greek themed fiction for my blog and The Greek Wives Club and recently finished British crime novel The Hat by my good friend Georgie Logan. If you are a fan of Martina Cole you will absolutely love Georgie's tale of love, passion and power set between the dangerous streets of South London and the peaceful idyll of a Greek village.
I've still got a huge pile of books written by friends that I need to crack on with and review but this year I've made a conscious effort to add a list of literature that is a bit different.
So have you read any of the books on my list?
THE BEES – Laline Paull
Born into the lowest class of her society, Flora 717 is a sanitation bee, only fit to clean her orchard hive. Living to accept, obey and serve, she is prepared to sacrifice everything for her beloved holy mother, the Queen.
But Flora is not like other bees. Despite her ugliness she has talents that are not typical of her kin. While mutant bees are usually instantly destroyed, Flora is removed from sanitation duty and is allowed to feed the newborns, before becoming a forager, collecting pollen on the wing. She also finds her way into the Queen's inner sanctum, where she discovers secrets both sublime and ominous.
But enemies are everywhere, from the fearsome fertility police to the high priestesses who jealously guard the Hive Mind. And when Flora breaks the most sacred law of all her instinct to serve is overshadowed by an even deeper desire, a fierce love that will lead to the unthinkable . . .
Laline Paull's chilling yet ultimately triumphant novel creates a luminous world both alien and uncannily familiar. Thrilling and imaginative, 'The Bees' is the story of a heroine who, in the face of an increasingly desperate struggle for survival, changes her destiny and her world.
THE FRAGRANT CONCUBINE – Melissa Addey
China, 1760. The Emperor conquers Altishahr, a Muslim country to the west of his empire and summons a local woman from his new dominion to come to the Forbidden City as his concubine.
Meanwhile in the market of Kashgar a girl named Hidligh is kidnapped by Iparhan, a woman scarred by the Emperor's conquest of her homeland and bent on vengeance. Iparhan offers her a deal: Hidligh will become the Emperor's concubine, living a life of luxury. In return she will act as Iparhan's spy.
But when Hidligh arrives in the Forbidden City, she enters a frightening new world. Every word she utters may expose her as an imposter. Iparhan is watching from the shadows, waiting to exact her revenge on the Emperor. The Empress is jealous of her new rival. And when Hidligh finally meets the Emperor, she finds herself falling in love…
THE MERMAID'S SISTER – Carrie Anne Noble
In a cottage high atop Llanfair Mountain, sixteen-year-old Clara lives with her sister, Maren, and guardian Auntie. By day, they gather herbs for Auntie's healing potions. By night, Auntie spins tales of faraway lands and wicked fairies. Clara's favorite story tells of three orphan infants—Clara, who was brought to Auntie by a stork; Maren, who arrived in a seashell; and their best friend, O'Neill, who was found beneath an apple tree.
One day, Clara discovers shimmering scales just beneath her sister's skin. She realizes that Maren is becoming a mermaid—and knows that no mermaid can survive on land. Desperate to save her, Clara and O'Neill place the mermaid-girl in their gypsy wagon and set out for the sea. But no road is straight, and the trio encounters trouble around every bend. Ensnared by an evil troupe of traveling performers, Clara and O'Neill must find a way to save themselves and the ever-weakening mermaid.
And always, in the back of her mind, Clara wonders, if my sister is a mermaid, then what am I?
THE MINIATURIST – JESSIE BURTON
On an autumn day in 1686, eighteen-year-old Nella Oortman knocks at the door of a grand house in the wealthiest quarter of Amsterdam. She has come from the country to begin a new life as the wife of illustrious merchant trader Johannes Brandt, but instead she is met by his sharp-tongued sister, Marin. Only later does Johannes appear and present her with an extraordinary wedding gift: a cabinet-sized replica of their home. It is to be furnished by an elusive miniaturist, whose tiny creations mirror their real-life counterparts in unexpected ways . . .
Nella is at first mystified by the closed world of the Brandt household, but as she uncovers its secrets she realizes the escalating dangers that await them all. Does the miniaturist hold their fate in her hands? And will she be the key to their salvation or the architect of their downfall?
A TASTE OF MAGIC – Tracy Madison
A young, divorced bakery owner discovers she's inherited her gypsy ancestress's fabulous magical powers, but learns that when seeking true love with her hunky new neighbor, a person has to be careful what she cooks up.
*
So any recommendations?
And if you do want to try some Greek ones here are a few still on my To Read list:
PANDORA'S PROPHECY – Julie Ryan
Lisa and Mark are going through a rough patch, Vicky is seventeen and has just discovered that the man she thought was her father really isn't, Ruth is getting over her husband's betrayal after nearly twenty-five years of marriage. On the surface they have nothing in common except that they are all staying in the same hotel on a Greek Island. As they each come into contact with the mysterious Pandora, their lives will change forever. Bodies begin to pile up as a serial killer is on the loose who might just be targeting the hotel. The Island's Police Chief, Christos Pavlides, tries to solve the puzzle but he has problems of his own to resolve. It seems that the local celebrity author is the one who holds the key.
EVANTHIA'S GIFT – Effie Kammenou
In the year 1956, Anastacia Fotopoulos finds herself pregnant and betrayed, fleeing from a bad marriage. With the love and support of her dear friends Stavros and Soula Papadakis, Ana is able to face the challenges of single motherhood. Left with emotional wounds, she resists her growing affection for Alexandros Giannakos, an old acquaintance. But his persistence and unconditional love for Ana and her child is eventually rewarded and his love is returned. In a misguided, but well-intentioned effort to protect the ones they love, both Ana and Alex keep secrets – ones that could threaten the delicate balance of their family.
The story continues in the 1970's as Dean and Demi Papadakis, and Sophia Giannakos attempt to negotiate between two cultures. Now Greek-American teenagers, Sophia and Dean, who have shared a special connection since childhood, become lovers. Sophia is shattered when Dean rebels against the pressure his father places on him to uphold his Greek heritage and hides his feelings for her. When he pulls away from his family, culture and ultimately his love for her, Sophia is left with no choice but to find a life different from the one she'd hoped for.
THE EMBROIDERER – Kathryn Gauci
Set against the mosques and minarets of Asia Minor and the ruins of ancient Athens, 'The Embroiderer' is a gripping saga of love and loss, hope and despair, and of the extraordinary courage of women in the face of adversity. 1822: During one of the bloodiest massacres of The Greek War of Independence, a child is born to a woman of legendary beauty in the Byzantine monastery of Nea Moni on the Greek island of Chios. The subsequent decades of bitter struggle between Greeks and Turks simmer to a head when the Greek army invades Turkey in 1919. During this time, Dimitra Lamartine arrives in Smyrna and gains fame and fortune as an embroiderer to the elite of Ottoman society. However it is her grand-daughter, Sophia, who takes the business to great heights only to see their world come crashing down with the outbreak of The Balkan Wars, 1912-13. In 1922, Sophia begins a new life in Athens but the memory of a dire prophecy once told to her grandmother about a girl with flaming red hair begins to haunt her with devastating consequences. 1972: Eleni Stephenson is called to the bedside of her dying aunt in Athens. In a story that rips her world apart, Eleni discovers the chilling truth behind her family's dark past plunging her into the shadowy world of political intrigue, secret societies and espionage where families and friends are torn apart and where a belief in superstition simmers just below the surface.
KALIMERA SQUID: AN EXPAT IN CYPRUS – Karen Guttridge
When Karen and Pete escape the cloudy skies of England and head to the sun-drenched Mediterranean island of Cyprus, they land in the middle of a title deed fiasco and soon the tiny island is making world headlines as the centre of a financial crash which shocked the world. After they find themselves singing to snakes, rescuing geckos and turtles and fending off goblins, have they made the right choice in coming here..?
ONE GREEK SUMMER – Helen Ellis
The last thing Lainie Greenwood expects is to tumble off her mule on the Greek island of Santorini and then have to watch her cousin, Marigold, fall for her rescuer. She's so irritated by all their lovey-dovey nonsense that she decides to leave them to it, escaping to the nearby island of Naxos.
Here she meets Andreas Galanis, a Greek/Canadian businessman, who needs a housekeeper for a few days. Unexpectedly, after the death of his ex-wife, he has to take care of his young son, Jamie, and right in the middle of house renovations, too. To Lainie's surprise he offers her the job. What has she to lose?
On the lovely island she begins to face her troubles as she deals with Andy and his own problems. For Jamie comes with an unhappy phobia, and as Lainie and Andy combine to help him, they discover an immediate attraction. But Andy has a partner, the beautiful, grasping Jacqui Hooper, who suddenly arrives from Vancouver to claim him, and in doing so reveals his haunting secret.
*
So where is the new reading year taking you?