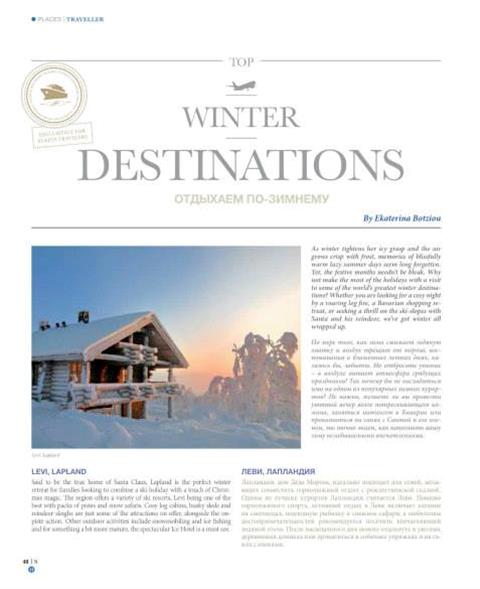 Looking for a winter getaway? Check out my article in Status Magazine!
TOP WINTER DESTINATIONS
As winter tightens her icy grasp and the air grows crisp with frost, memories of blissfully warm lazy summer days seem long forgotten. Yet, the festive months needn't be bleak. Why not make the most of the holidays with a visit to some of the world's greatest winter destinations? Whether you are looking for a cosy night by a roaring log fire, a Bavarian shopping retreat, or seeking a thrill on the ski-slopes with Santa and his reindeer, we've got winter all wrapped up.
Levi, Lapland
Said to be the true home of Santa Claus, Lapland is the perfect winter retreat for families looking to combine a ski holiday with a touch of Christmas magic. The region offers a variety of resorts running from sleepy settlements to modern towns. Just 15 miles from Kittila Airport, Levi is one of Finland's best ski retreats with packs of pistes as well as plenty of children's activities and snow safaris. Cosy log cabins, husky sleds and reindeer sleighs are just some of the attractions on offer, alongside the on-piste action. Other outdoor activities include snowmobiling and ice fishing and for something a bit more mature, the spectacular Ice Hotel is a must see. Uncrowded slopes and a warm friendly atmosphere make Lapland the perfect family destination for winter.
Munich, Germany
Traditional Christmas markets are a huge feature of central European winter and draw in thousands of tourists each year. Munich opens its Christmas market from the end of November to December 24th on Marienplatz (St Mary's Square) with stalls selling everything from gingerbread to sleigh bells, toasted with a glass of warming glühwein. Advent music is performed live every evening from the Town Hall and spectators can listen while gazing at the huge Christmas tree that towers over the square. A short walk from Marienplatz is Neuhasser Street, which hosts the popular Kripperlmarkt, one of the largest manger markets. Wintertollwood offers more of a party atmosphere and lively concerts, beautifully quirky crafts and plenty of ethnic foods can be enjoyed throughout the festive period.
Whistler, Canada
Unlike any other ski resort in North America, Whistler has all the scenery, slopes and glaciers of an Alpine resort, but with far superior snow quality and plenty of woodland runs, putting it firmly on the map for thrill-seekers. Whistler was the host of the 2010 Winter Olympics, and its neighbouring Blackcombe Mountain offers advanced skiers a heart-stopping experience on the long glacial descents, bumps, couloirs, bowls and chutes. At the foot of the mountains lies Whistler Village, which offers all the amenities expected of a world-class resort, while still retaining the feel of a small town with a unique mountain culture and distinctive hospitality.
St Moritz, Switzerland
Another previous host city for the Winter Olympics is St Moritz, a luxurious Swiss resort that is synonymous with champagne and all things chic. In winter, St Moritz offers a wealth of activities for the stylish adventurer, with popular pastimes including skiing, snowboarding, hiking and shopping. Every February it hosts the 'White Turf' horse race on the frozen Lake St Moritz and visitors can take a ride on the Glacier Express from Zermatt to arrive in style. Hundreds of miles of ski trails, sporting events and several unique heritage sites make St Moritz a superb winter destination.
Harbin, China
In China's Northeast region of Heilongjiang, the 'Ice City' of Harbin welcomes thousands of visitors to its winter International Ice and Snow Sculpture Festival each year. The festival is one of the four largest ice events in the world and includes Alpine skiing, winter-swimming in Songhua river, and the ice-lantern exhibition in Zhaolin Garden. The Sun Island Park is the site of the Snow Sculpture Exposition and has the world's largest indoor ice and snow art museum. The ice world also now features weddings, parties and other entertainment which has added to the unique winter feel of this great festival of art, culture, sports and tourism.
Reykjavik, Iceland
Considered to be the gateway to Iceland's most beautiful and pristine landscapes, Reykjavik offers a wealth of winter activities from skiing and glacier climbing to shopping and spa days. With its mineral-rich water, the Blue Lagoon geothermal spa is one of the most visited attractions in Iceland and is believed to hold numerous healing properties. The nightlife in Reykjavik is equally popular but can be quite exhausting due to the length of the winter nights. For shopaholics, the city offers beautiful Icelandic and Scandinavian-made fur and leather goods, alongside a souvenir village with over 150 shops. Trips to view the spectacular Northern Lights can also be arranged and will ensure that your winter visit is one to remember.