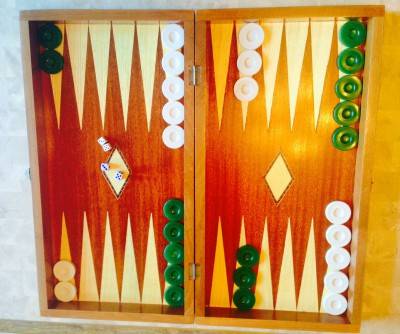 For Greek people (men in particular), one of the main forms of entertainment (aside from eating, staring, gossiping and…eating some more…) is the game TAVLI. 'Tavli' means 'board' and is basically the Greek version of backgammon…with a lot more shouting. The game is generally played for fun, but sometimes also for money.
I have many fond memories of my Greek relatives playing Tavli. When my Papou (Grandfather) used to come to England, he and my father would shut themselves away for hours playing Tavli, engulfed in a cloud of smoke and sipping ouzo until the wee small hours of the morning.
There are three games of Tavli:
Portes – most similar to Western backgammon
Plakoto – a game where one checker can trap another checker at the same point
Fevga – (Turkish origin) where one checker by itself can block a point
The games are played one after the other, in matches of 3, 5 or 7 points.
The following rules apply to all variants of Tavli:
Only one pair of dice is used.
In the first game, each player rolls one die and the higher number goes first. That player then rolls the dice again to begin his first turn.
After the first game, the winner of the previous game goes first.
The first player to bear off all his checkers gets one point, or, if the winner bears off all his checkers before the loser has borne off any, he gets two points. There is no triple game.
No doubling cube is used.
Tavli is a very fast paced game and there are regular wins which credits the players with points. It is a game that can easily become addictive…much like food.
So grab yourself a Tavli board, add some olives, feta and ouzo to the mix and you have yourself one very Greek night of entertainment.
May the best Greek win! OPA!